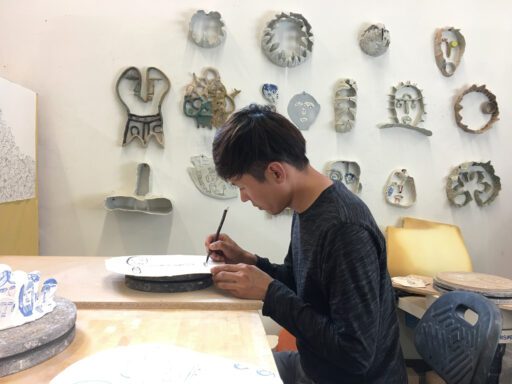 Yeonsoo Kim was born in Haenam, South Korea. He is a long-term resident artist at Archie Bray Foundation. Yeonsoo earned his Master of Fine Arts degree in Ceramics at Lamar Dodd School of Art, University of Georgia in Athens, GA. He was recently selected as a recipient of a 2020 Emerging Artist award by the National Council on Education for the Ceramic Arts (NCECA).
In order to understand the art, history and culture of ceramics of Korea, Yeonsoo Kim worked with Korean masters at various onggi factories and ceramic studios as a way to secure a strong foothold in the field of Korean traditional pottery. An artistic identity began developing as life experiences and values were shared with other artists and workers. Yeonsoo began tasking himself with creating a new hand built vessel each day. These works, when amassed, act as a type of diary or a visual record of listening to his inner voice. His works explore identity and psychological conditions through the processes of making and daily life.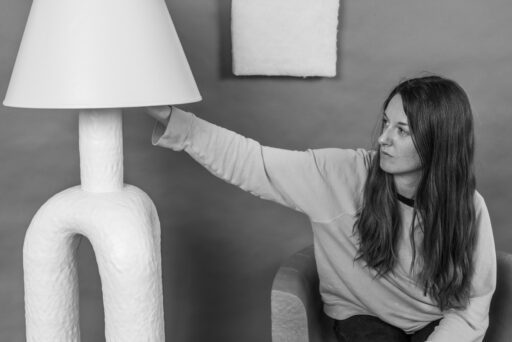 Kelsie Rudolph earned her MFA in ceramics from Montana State University in 2018 and her BFA in ceramics from the University of Wisconsin-Stevens Point in 2013. She has exhibited nationally and internationally and has completed residencies at Anderson Ranch Art Center in 2019, at Tainan National University of the Arts, Guantain District, Tainan, Taiwan, in 2016, at Red Lodge Clay Center in 2016, and at the China Academy of Art, Hangzhou, China, in 2014.
Kelsie Rudolph uses slab and coil techniques to create sculptural ceramic furniture. She is continuously searching for commonalities across cultural and social systems as exhibited through people's relationships to objects within architectural space. For Kelsie, how people exist in and relate to the world is an endlessly complex and emotional experience, hinged tightly to the objects and spaces people encounter. Her work celebrates these emotive moments where people overlap out of necessity, and seeks to use them as an opportunity to develop community and self-awareness.
YehRim Lee was born in Seoul, South Korea.  The way she interacts with her work is directly connected to her background in ceramics. She earned her BFA in ceramics from Korea National University of Cultural Heritage 2013. In 2014, she continued her studies at the California State University Long Beach as a post-baccalaureate in ceramic arts. She received her MFA in Ceramic Art at Alfred University in 2017. She has shown in exhibitions nationally and internationally. YehRim has been an artist in residence at University of Georgia, University of the Arts and the Clay Studio in Philadelphia. Recent shows include Shifting Reverence at NCECA, 2019 and the Korean International Ceramic Biennale 2019.
YehRim Lee builds bridges between the masculine and feminine, between East and West, between decorative and functional, eternal and the ephemeral. The bridges suspend (often in the air) decay, ambiguity and sensuality. Taut, fibrous stings of emotional labor welcome the viewer across the chasm. Through colors and glaze, she explores luxury and decadence with surfaces that crystallize, facet, fragment, blur and cause noise.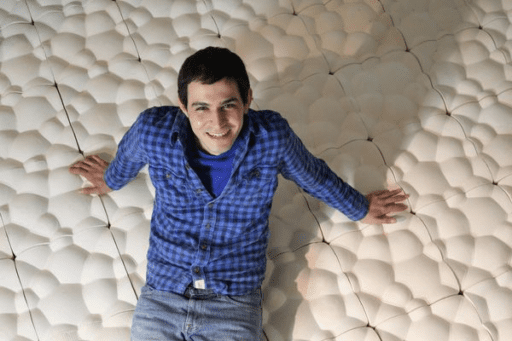 Uriel H Caspi was born in Haifa, Israel. He received his MFA in ceramic art from the New York State College of Ceramics at Alfred University, USA. In 2018, graduated magna cum laude from the ceramics department, Bezalel Academy of Arts and Design, Jerusalem. Uriel studied at the Rhode Island School of Design and Cranbrook Ceramics, MI. His works and installations have been showcased nationally and abroad. In 2019, Uriel was awarded an emerging artist prize of the Hecht Museum Foundation. Uriel joins The Bray as the 2021 Matsutani Fellow.
Uriel Caspi's artworks propose an interplay between the revival of ancient crafts and contemporary art studio practice. Hailing from Haifa, Israel, Uriel is visually inspired by archeological remnants from the Middle East and the aesthetics of future design. Installations of large-scale ceramic sculptures operate as platforms for artistic interaction between the artist and the viewer. Antiquarian connotations from the artist's local surroundings as well as objects from the domicile are transformed into clay, in a process of experimental study that occasionally combines both ancient techniques and digital fabrication.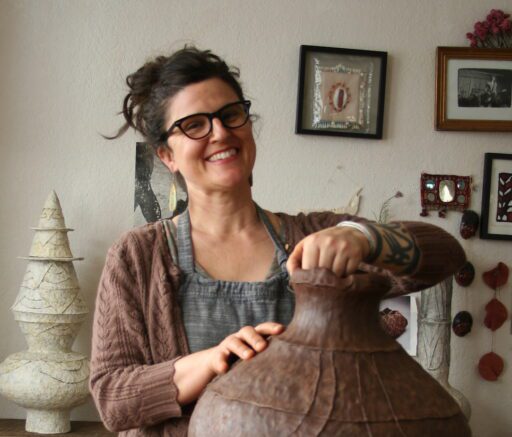 Candice Methe is a ceramic artist and educator from Falmouth, Massachusetts, who has been working in clay for over twenty years. For the first ten years of her career she was self-taught before receiving her BFA from Northern Arizona University, 2011 and her MFA from the University of Minnesota, 2015. She has completed short-term residencies at Red Lodge Clay Center, Archie Bray Foundation and Santa Fe Clay. In 2016 she received the Warren MacKenzie Advancement Award through Northern Clay Center, to travel to Ghana, West Africa to study the indigenous clay architecture and learn the traditional ways of working with clay.
The foundation of Candice Methe's work is the presence of the hand. When coiling and pinching the clay she leaves marks as she builds the forms, which act as a record of intention. Working in this way makes the process slow and allows her to spend time considering how the anatomy of the vessel comes to life through line, form, and surface. With every piece, she strives for subtle, soft surfaces and the deliberate execution of shapes that move between discreet profiles and dramatic contours.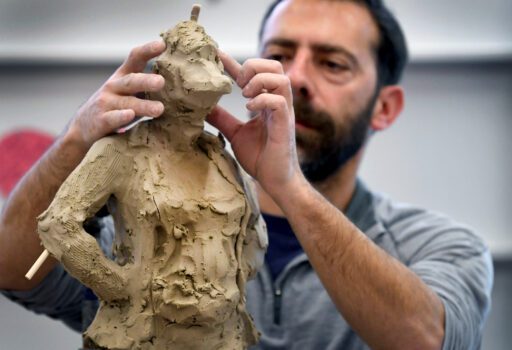 Alessandro Gallo was born in 1974 in Genoa, Italy and is now based in the United States, in Helena, Montana. After studying Law at the University of Genoa, Gallo moved to London where he studied at Saint Martin's College of Art and at Chelsea School of Art and Design. Alessandro has shown internationally and his work was in the 54th Venice Biennale in 2011. In 2012, he was awarded a first place grant from the Virginia A. Groot Foundation. In 2014 and 2016 he had solo shows at the Jonathan Levine Gallery in New York. In 2018 Alessandro was selected as a Demonstrating Artist for NCECA (National Council on Education for the Ceramic Arts).
Alessandro Gallo represents the silent life happening around him using human/animal hybrids. He uses the animal head as an expressive tool, something between a mask and a caricature that exaggerates inner features. Alessandro combines these heads with the silent language of our body and the cultural codes of fashion in order to portray specific individuals, the subcultures they belong to and, ultimately, the common habitat we all share.